Posts: 71
Joined: 30 Dec 2014, 12:30
No - most likley use for "What a Tanker"....although it is in Barberoosa for Battlegroup. (Probably with far too much ammo and reliable !)

ianS
Any thing bigger than 6 is TOO BIG
Posts: 504
Joined: 16 Mar 2012, 07:07
Location: Glasgow
cartfc

wrote:

↑

06 Jun 2019, 19:57

Terrain, figures and models for a big 28mm Battle of the Bulge this Christmas is consuming most of my efforts. Had a bit of time to paint some Blood Red Skies planes. I probably need some more greatcoated US though. Also doing some figure conversions for Panzer Brigade 150. As they wore German uniform underneath and were instructed to remove the US uniform before opening fire I am using a mix of Warlord plastic Germans with bits of US kit and weapons.

Cheers Fred.
That sounds really interesting Fred wouldn't mind seeing the finished articles....cheers. John
Posts: 504
Joined: 16 Mar 2012, 07:07
Location: Glasgow
Gary

wrote:

↑

14 Jun 2019, 08:36

What's on the tray today?

Modern vehicles, cheapo 4d Humvees from EBay- £1.04 each with p&p. Polish trucks; Amercom/Deagostini,first MAN truck built- another one is waiting, but find complicated kit builds a pain these days! I have a Hmtt US 8 wheel truck built too in another tray! The trees were €1 a bag via Wish.com....I have 2 bin liners of plastic trees and bushes to tackle for a major terrain push this summer!

Open Blitz trucks, also £1.04 each, excellent war game models, simple construction and robust ( they have been drop tested!). First to Fight sdkfz thingy for my German column,another nice kit to build.

These are the raw 3d models post assembly, minimal clean up and assembly. The French apc's and tank hunters are from Portugal, Minigenera-59 on EBay ( ask him for combo p&p for multiple models). The BRDM-2 is from the UK, AndromedaPrints.co.uk . £4 plus p&p, very nicely cleaned up prior to shipping and good value for money.Destined for my Czechoslovakia forces.......
An excellent trawl Gary...and thanks for the heads up
cheers John
Made some progress on these.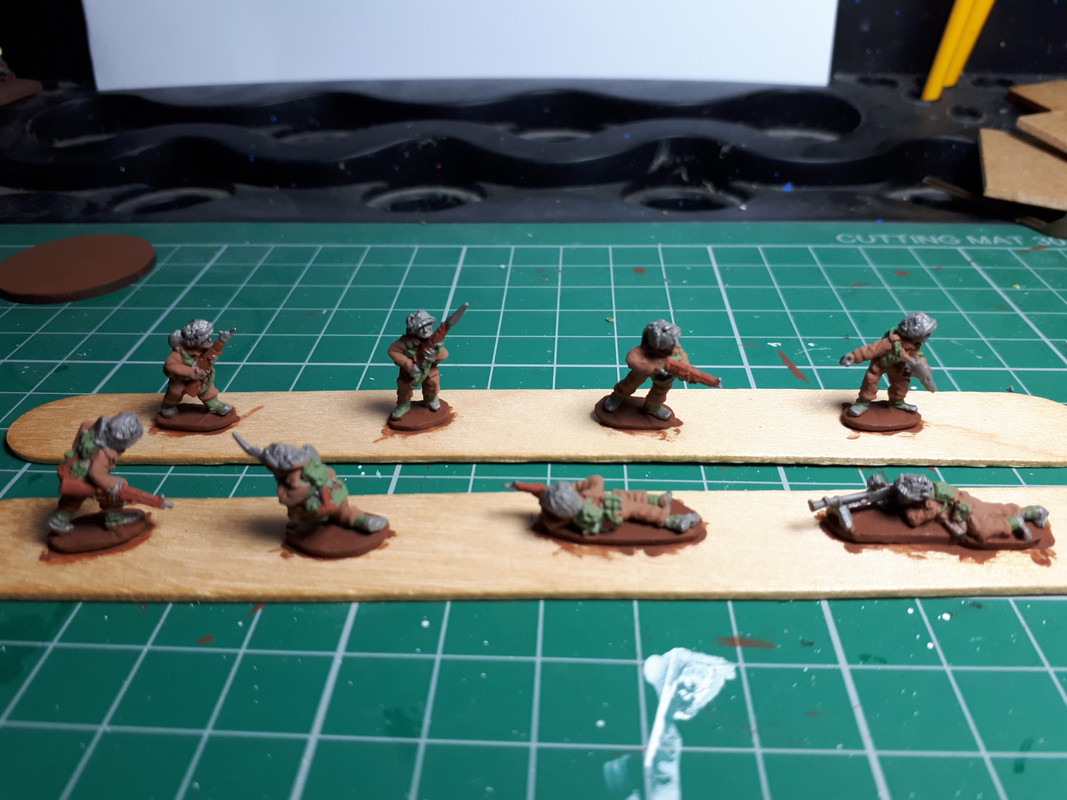 Posts: 285
Joined: 16 Mar 2012, 07:13
Location: Bonnie Scotland
Contact:
Posts: 504
Joined: 16 Mar 2012, 07:07
Location: Glasgow
I don't ever envy anyone anything ,but I must admit to having a twinge I missed out on this...hope it was as "Grande" as it looks...cheers John
Posts: 285
Joined: 16 Mar 2012, 07:13
Location: Bonnie Scotland
Contact:
It was a fantastic spectacle - 22,600 figures, 100 wargamers, 4 huge tables, teams of umpires, volunteers, "media" (students doing reports on social media).
I commanded the British 1st Division (the Guards Brigades of Byng and Maitland and the Hougoumont Garrison) and later a brigade from 2nd Div and two Brigades of Brunswick and Hanovarian infantry with a small cavalry force.

We held Hougoumont against overwhelming odds of Jerome's Divisions that assaulted it then destroyed them in the garden. On our right the remainder of Jerome's Corps was pushed back to their start positions. Even further to our right the French attempt to outflank us with several divisions of cavalry was halted and the repulsed by our Dutch Allies.
Then we assisted in the complete destruction of Rielle's Corps allowing 2nd Division to flank the Imperial Guard. While that was going on, with our Brunswick and Hanovarian allies and Maitland's Guards Brigade (supported by the HLI) attacked towards La Belle Alliance forcing back the Imperial Guard Heavy Cavalry and a Line Infantry Brigade while the 7th Hussars and the Dutch Light Cavalry almost reached Napoleon forcing the Old Guard to come his rescue. The road back to Paris was cut.
I received personal congratulations from the Iron Duke for holding the line then launching a spirited and highly successful counter attack.
Posts: 504
Joined: 16 Mar 2012, 07:07
Location: Glasgow
The privileges of rank Alan
sounds like a great experience ,well done that man
Posts: 285
Joined: 16 Mar 2012, 07:13
Location: Bonnie Scotland
Contact:
For those interested I have posted a thread here
https://www.thewargameswebsite.com/foru ... ost-116453