Lluis of Minairons

Staff Sergeant

Registered: 10-Feb-2017

Posts: 57
1/600 Spanish Galleon design last steps
Unless something starts going unexpectedly wrong, I hope this will be my last update on our Spanish galleon designing project, before we plunge into the process of tooling it for production.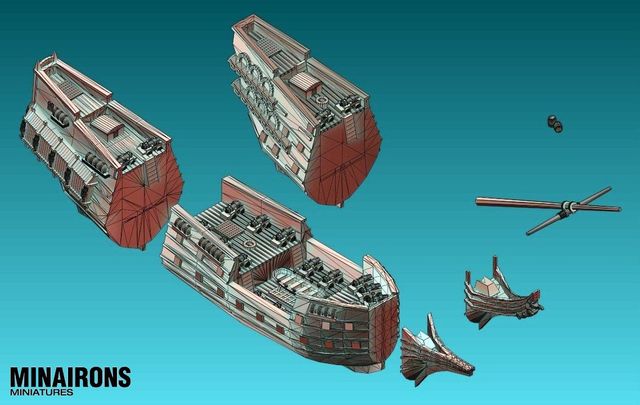 After all, as you can see by the image above, we have designed the model with two alternative bows and sterns, to reflect the design changes suffered by the ship over the centuries. Thanks to such artifice, we shall be able to launch not just one but two different galleons (although with interchangeable bow and stern pieces, in order to facilitate the construction of hybrid models).
In the end, this is the shape our upcoming 03NAV001 Early Galleon is going to take: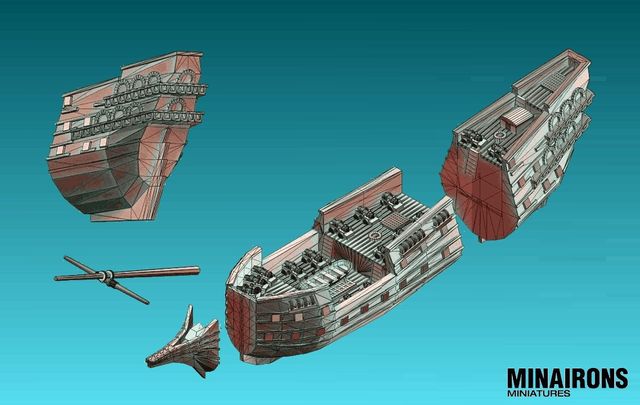 And this is what the 03NAV006 Late Galleon following afterward is going to look like: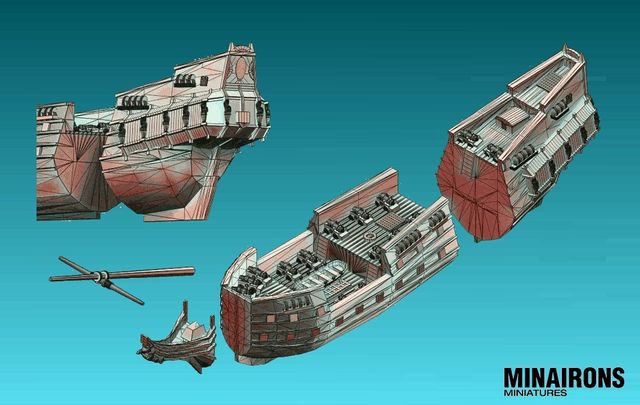 That's not all though, because we have also designed each mast in two different configurations: with either fully unfolded and partially furled sails. As both kits' masts will be interchangeable too, this will allow for even more customization and variations.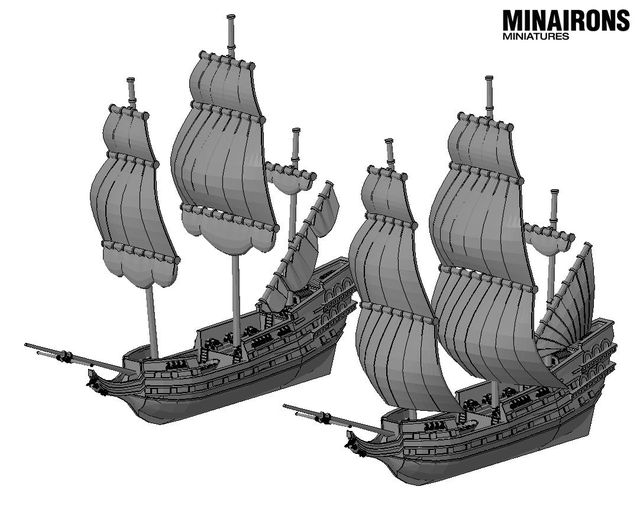 Worth to confirm that ultimate model kits will be waterline (despite drawings above are showing hulls complete to keel).
POLL REMINDER
As already announced, we shall start releasing soon a collection of naval flags suitable for this upcoming naval range. Our first releases are to comprise ensigns, jacks and pennants for Spanish, Portuguese, Catalan, French and Ottoman ships (either men-of-war and merchants/privateers); but we've also set recently a poll to help determine real priorities among users. Please help us decide by answering it! (follow this link for doing so)
Cheers
Lluís
www.minairons.eu
minairons-news.blogspot.com
www.facebook.com/MinaironsMiniatures
Kalinovsky

Staff Sergeant

From: Durham

Registered: 10-Mar-2017

Posts: 59
Re: 1/600 Spanish Galleon design last steps
Luis this is very interesting but is it appropriate to a Twentieth Century Wargames Forum? Or the Very British Civil War Forum where I have also seen it posted?
Lluis of Minairons

Staff Sergeant

Registered: 10-Feb-2017

Posts: 57
Re: 1/600 Spanish Galleon design last steps
Yes I've also posted this piece of news on VBCF.
To be precise, I've done it on their "The Other Periods Room", a place explicitly labelled by their administrators as 'General Chit Chat about Other Periods that we have an interest in. This Room also includes the Other Period Games that we as a forum would like to put on'. That is, a subforum specifically intended for threads like this one.
It's following that same logics that I've believed it right to use SOTCW "General Discussion" subforum for such a thread. However, I'll be happy to place it anywhere else if warned to do so. Or even, if this forum administrators believe there shouldn't be in SOTCW any room for periods different to 20th century, I'd understand an erasure.
Last edited by Lluis of Minairons (18-Jul-2017 17:13:16)
CarlL

Lieutenant General

Registered: 25-Mar-2013

Posts: 1,935
Re: 1/600 Spanish Galleon design last steps
Lluis
You should be forgiven for sharing your non 20th century wares! As you have given us so many goods for 20th century!
There isnt really an "other" category on this website and not sure how many other period gamers you will find here. (I am one who enjoys other historical periods.)
CarlL