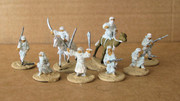 I bought these from eBay a few years ago as samples of the range. I then tried to buy more from the same seller, but they had some complicated system on their eBay system which didn't work, and when I tried to contact them to try to order direct I couldn't get a response.
So I just wondered if anyone recognised them and could tell me the manufacturer. I got the impression from the eBay listing that the sellers maybe weren't the original owners of the range and viewed it as an "old range", which is a pity as they are really nice figures.
They are 20mm, by the way.