Last weekend another care package arrived from Bill Krieg, this time containing 3 Milicast SdKfz.251/1 (2 Ausf C and 1 Ausf D), a pair of Zvezda 2cm Flak38 (1 assembled and 1 bagged parts), 3 Raventhorpe German motorcycles and crews (2 combos with sidecar, 1 solo), and a couple of panzer crewmen figures.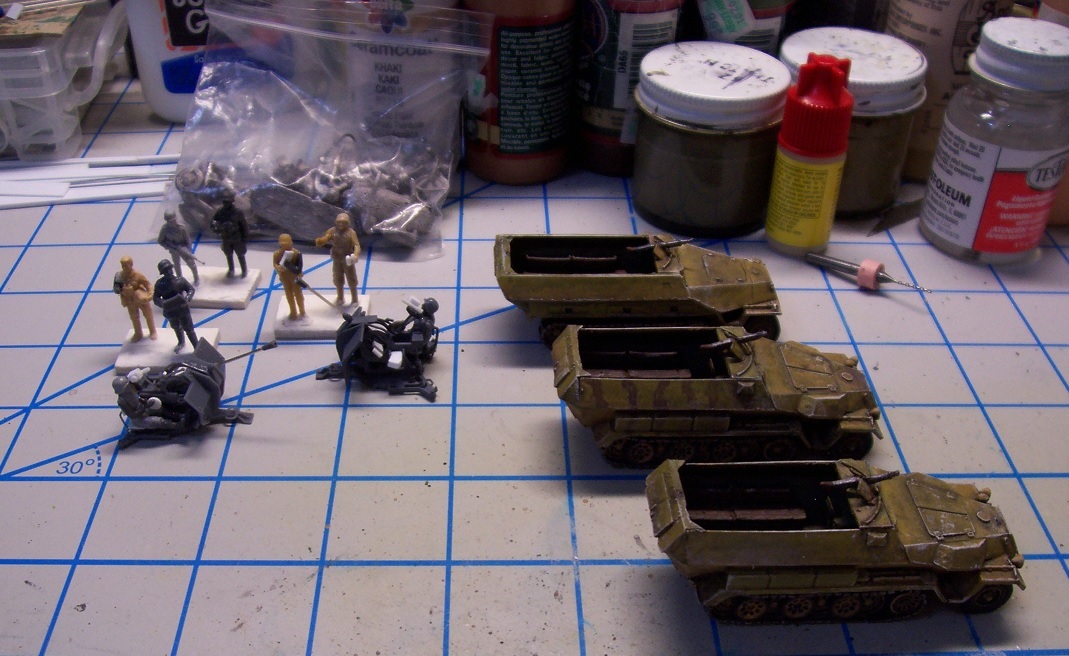 The halftracks needed little work other than repairing broken MG barrels (drilled and pinned with fine copper wire) and paint touch up on the wheels and running gear. Here they are awaiting decals, which I've yet to print. The Flak38 had a few missing parts and missing or broken gun barrels. The barrels were replaced with brass wire, with flash hiders made from stretched sprue, and replacements were scratchbuilt for the missing detail parts. I had to make up a seated gunner figure for one of them, a real Frankenstein creation using bits from various Hasegawa and ESCI hard plastic figures in the bits box. The same bits box also provided the parts to make up 4 of the standing crew and command figures shown here, along with the SMG figure from the Airfix German Recon Set and the other original Zvezda gunner. With a bit of paint the 6 figures and 2 guns will make up a complete Light Flak Battery for my early-to-mid-war Germans for Command Decision.
Since 1 January, I've managed to build and paint the 7 terrain pieces for the sawmill previously posted on this forum, 8 assorted artillery pieces (3 U.S. M3 37mm AT guns, 3 U.S. M1 75mm pack howitzers for my USMC in the Pacific, 1 HaT 75mm Mle.1897 field gun and 1 old Richard Houston 47mm SA Mle.1937 AT gun for my French Tunisian forces), and paint 88 figures (61 assorted mid-war U.S. infantry and gunners including an entire light AA auto weapons battery, 17 assorted French gunners and engineers for Tunisia, and 10 DAK infantry received from Bill). By my usual standards, an extraordinarily productive 2 months.
David